Women Leading Change at Cedars-Sinai
As a leader in healthcare, striving for excellence in specialized care for the community in Southern California, we are proud to employ some of the brightest and most inspiring female leaders in the industry. From strategic planning for the future of our organization to working one on one with patients, we owe them a debt of gratitude and are humbled by their tireless efforts to strengthen our impact in healthcare. Get to know some of the women who have helped bring Cedars-Sinai to the forefront of research and treatment in healthcare practices.
Rekha Murthy, MD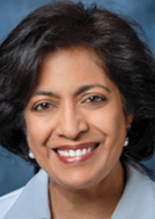 Recognized nationally for her expertise in hospital epidemiology, antimicrobial resistance and infectious diseases, Rekha works with medical staff leaders to ensure our physicians are utilizing the latest quality and safety practices. Her main concern is the safety of our patients and, through instituting risk-management efforts, she's kept our staff, caregivers and patients healthy and protected.
"Working with the staff and leaders at Cedars-Sinai has been a source of inspiration to me. I'm reminded of our success with making hand hygiene a routine behavior when I observe caregivers automatically disinfect their hands when entering and exiting patient rooms – much like people wearing seat belts in vehicles without prompting.
Joan August, Vice President of Operations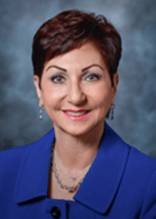 Joan's nonstop work ethic has kept our processes running smoothly across several core departments, including Obstetrics and Gynecology, Pediatrics and Radiation Oncology, to name a few. From high-level management and strategic planning to ensuring our patients have access to the same cancer services across all Cedars-Sinai locations, she keeps our ship afloat.
"I am greatly impacted by seeing the difference we make in patients' lives and how thankful they and their families are. I was originally trained as a speech-language pathologist and administrator. I still get to witness and engage in the positive impact we have on the people who come through our doors."
Jill Martin, Senior Vice President and Chief Operating Officer of the Cedars-Sinai Medical Network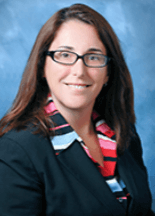 For over two decades, Jill has been overseeing physician practices within our network that covers primary care and specialty medical groups in the Greater Los Angeles area. With a background in finance and operations, she holds a role more focused on project management and business development, but she strives to make an impact on our patients and employees in any way she can.
"Although I'm not a clinical person, I find it very rewarding to see that my work can improve the experiences of patients. I also love working with my team, and it's especially rewarding when we can help each other through the day's challenges."
Peggy Miles, MD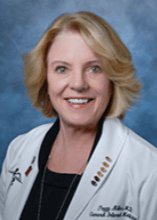 The first and only female chief of staff at Cedars-Sinai, Peggy's responsibilities include directing Employee Health Services, supervising staff and chairing the Board of Directors committee on quality improvement, plus the staff's code-of-conduct committee. With a passion for learning and an unwavering ambition, Peggy will continue to break down the barriers for women in the industry.
"What I really love is teaching and mentoring interns, residents, medical students and junior faculty. I also love learning something new every day and that my job gives me the opportunity to continue growing and gaining knowledge."
Linda Burnes Bolton, DrPH, RN, FANN, Chief Nursing Officer, Health System Chief Nursing Executive, Senior Vice President of Nursing and Director of Nursing Research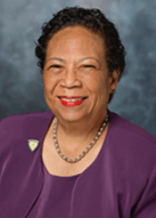 With 45 years of experience, her long list of credentials speaks for themselves. Waking up each morning at 5:30 a.m., she makes plans to divide and conquer the day, then spends the majority of her time meeting with staff and leadership across our health system. As a prominent figure at Cedars-Sinai, her demanding schedule doesn't allow her to have much one-on-one interaction with patients, but it's still her favorite part of her day.
"The best part of my day is the one to two hours – if I'm lucky – I spend making the rounds on patients. It's engaging with patients and their loved ones, assuring them they made the right choice of Cedars-Sinai and that they will receive excellent care."