Our Commitment to Hiring Military Veterans
When seeking employees to join Cedars-Sinai, we look for certain qualities in our candidates, like compassion, commitment and leadership. Military Veterans embody these qualities in spades, which is why we are committed to building a strong veteran community at Cedars-Sinai.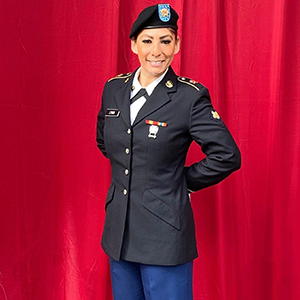 You can contact our Veterans Program Administrator at JenniferLynn.Delatte@cshs.org
Our Veteran community is more than 290 employees strong and continuously growing. "We have to have the best, most capable people to deliver on our mission as an organization and, from my perspective, vets fit that bill," says Chief Human Resources Officer Andy Ortiz. "Hiring them is good to do for the community, and it is part of our talent strategy. It's the right thing to do."
Our Veteran Program Administrator Jennifer Delatte is currently serving as an Information Technology Specialist and a Sergeant in the United States Army Reserve. She is also a Military Spouse whose husband is on Active Duty. She is forging strategic partnerships with organizations like the Public Private Partnership, The Employer Support for Guard and Reserve and local Veteran Service Organizations to be able to infuse more Veteran talent into our organization. She is also committed to providing outstanding support to our current Veteran employees to ensure they aresupported and retain employment within our organization.
In addition to the strides we are making to attract military service members for our open roles, we recently launched VetConnect, our employee resource group. It is important for our staff membersto feel recognized, heard and appreciated for their service on the clock and for their country. VetConnect provides a safe place for Veteran staff to come together and to continue to make an impact.
Awards and Promotions
Military veterans and their families have devoted every ounce of their hearts to protecting others. Cedars-Sinai shares that same mission. Every day, our world-class professionals give their all to ensure we consistently provide the highest-quality patient care and make a significant impact in the lives of others. With the support of our collaborative team, tools for growth and advancement opportunities, Cedars-Sinai has everything you need to achieve remarkable things in your career.
Cedars-Sinai was accepted into the Military Spouse Employment Partnership Program, a Department of Defense initiative that helps spouses of active-duty military members land jobs in the private sector by pairing the military with leading businesses. It is our hope that through this partnership, we will be able to combat the 26 percent unemployment rate that military spouses face.
As a military veteran, you've given everything you have to serve your country. With your military training and skills, you'll strengthen our team and help us continue to provide the best possible care for our patients. Put your military experience to work serving the people of our community.
USERRA Statement
We fully recognize, honorand comply with the Uniformed Services Employment and Reemployment Rights Act (USERRA). We appreciate the values, leadership and unique skills Service members bring to the workforce and will continue to encourage opportunities to employ Guardsmen, Reservists, transitioning Service members and Veterans. We believe it is important to celebrate, recognize and support our U.S. Service members and their families in peace, in crisis and in war. To foster an inclusive environment, all managers and supervisors have access to tools needed to help effectively manage those team members who serve in the Guard and Reserve."
Match Your Military Skills to Our Open Positions