Specialty
As an 896-bed, full-service clinical, research and teaching facility, Cedars-Sinai offers an unmatched variety of challenging and rewarding nursing career opportunities. To learn more, look into one of our nursing specialty areas below.
At Cedars-Sinai, ambulatory care is a vital part of our patient-care capabilities. With procedural and consultation clinics, our services cover the spectrum of specialty areas. Our ambulatory RNs are highly respected for their expertise and provide the best possible care to our patients.
As an ambulatory RN at Cedars-Sinai, you'll enjoy our supportive working environment, which includes the assistance of IV and transport teams. Our shared governance model will give you a strong voice in the direction of your workplace and as a world-class teaching and research hospital, we offer exceptional opportunities for professional education and development.
As a critical-care nurse working at Cedars-Sinai, you'll join a team of skilled medical professionals who provide exceptional patient care when it matters most. Our critical-care nurses can gain exposure to specialized intensive care units such as medical, surgical, medical-cardiac, cardiothoracic-surgical, respiratory, neuro-trauma, pediatric and neonatology.
From our Level I trauma center with a paramedic base station to our Level III Neonatal ICU, the critical-care facilities at Cedars-Sinai offer an unparalleled opportunity to experience the challenge and excitement of critical-care nursing.
Our state-of-the-art Saperstein Critical Care Tower features 120 intensive-care beds and a unique 30-bed universal monitored unit.
Our Ruth and Harry Roman Emergency Department gives our emergency nurses all they need for an exciting, rewarding career. As a Level I trauma center and a tertiary referral facility approved for pediatrics by Los Angeles County, the department always has learning opportunities at hand.
We provide the complete range of emergency services in a 51-bed, state-of-the-art facility that includes:
Seven fast-track beds
Four critical-care bays/trauma bays
Four OB-GYN rooms
Ear, nose and throat room
Dedicated laboratory
Dedicated X-ray
Dedicated pharmacists, case managers and social workers
Spiritual care services
Helipad
Triage phlebotomist
In addition to being a Level I trauma center, our special designations include:
Level II pediatric trauma center
Comprehensive stroke center
Emergency department approved for pediatrics
Pediatric critical care center
STEMI receiving center
Paramedic base hospital
We offer numerous opportunities for med-surg nurses to advance their careers while gaining valuable clinical exposure. Nursing roles are available in such specialized areas as:
Endocrinology/diabetes
General medical
Gastrointestinal
Oncology/bone marrow transplant
Orthopedics
Pulmonary
Renal
General surgical
Neurology
Neurospine surgery
At Cedars-Sinai, nurses in the operating rooms and post-anesthesia care unit (PACU) work on the front line of healthcare innovation every day and are an integral part of our surgical teams. Our Department of Surgery's National Institutes of Health portfolio is consistently in the top 25 nationally, and we are pushing the boundaries of what's medically possible every day.
O.R. SERVICES — As a Level I trauma center with 42 operating rooms in six locations, we perform advanced surgeries every day using the latest technology. We are a multiple-organ transplant center where you can be part of a team performing heart, liver, kidney, pancreas and heart-lung transplants. We also perform surgery using robotics in Urology, Cardiac, Ear, Nose and Throat, and General Surgery. In addition to the main O.R., we also have an Outpatient Surgery Center with five operating rooms.
PACU — Our recovery units are also in six separate locations with a total of 128 pre-op/post-op bays. Here, you can participate in the latest clinical procedures and technological advances, with the diverse, high-acuity patient population we serve. The Outpatient Surgery Center supports the operating rooms with 12 pre-op/post-op bays.
As a research nurse at Cedars-Sinai, you'll help bring the most innovative and successful research from the laboratory to the patient. You'll apply your expertise in one-to-one patient care to translational research as part of a close-knit team that includes physicians, principal investigators, data managers and support personnel.
Being a nurse at Cedars-Sinai means gaining exposure to the most innovative research and current technology while practicing in an environment centered on our patients and their families. Both allow us to provide excellent personalized care and produce excellent outcomes.
We utilize our shared governance model to collaborate with each other, physicians, previous patients and families, and our leadership to create and implement processes to maintain excellence into the future.
In our dynamic Perinatal Program, we provide excellent patient and family-centered care to high-risk and low-risk patients. Our unit includes 21 newly designed labor, delivery and recovery suites, two labor rooms and four operating rooms. We provide 16 beds for high-risk perinatal patients in our Maternal Fetal Care Unit.
We also offer a Labor and Delivery Nurse Intern Program for new grads and experienced RNs who want to move into this rewarding area.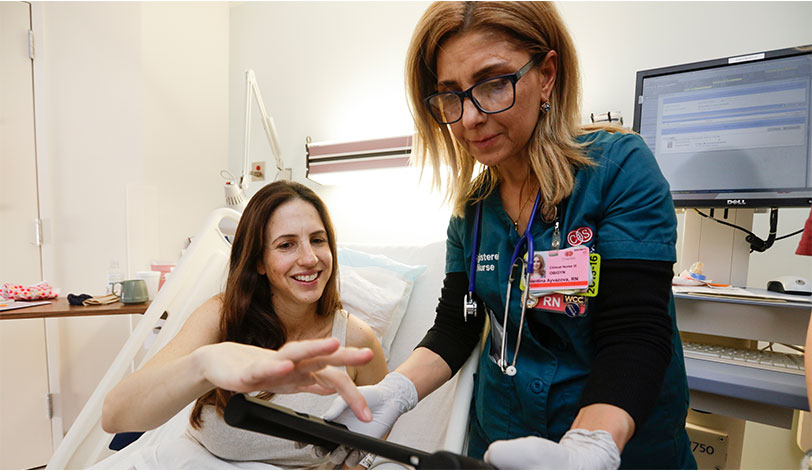 Bring everything you have to a career at Cedars-Sinai.