Become a Part of Progress
The research faculty at Cedars-Sinai is leading a revolution in healthcare research by translating genetic discoveries into therapies tailored to each patient's individual case. We're dedicated to improving the health of our patients and our community, and these changes are taking shape thanks to Cedars-Sinai Precision Health.
The Precision Health initiative joins clinicians and scientists with industry partners to create solutions that take a proactive approach to healthcare by predicting potential dangers so that they can be prevented entirely. Since its 2016 launch, the initiative has introduced a variety of projects using big data, digital technology and other cutting-edge methods to promote care that is both personalized and patient-centric.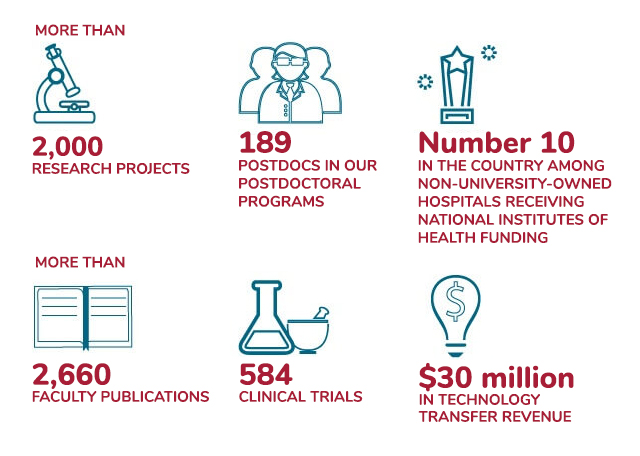 Proactive Care
The research team at Cedars-Sinai chose to kick off the Precision Health initiative with a study that addresses a major national health issue: cardiovascular disease. This condition is the leading cause of death for both men and women in the United States, with the greatest impact seen in ethnic minorities and young women. Early signs of cardiovascular diseases may be missed, as people typically have very little interaction with a doctor or hospital to monitor the progression of symptoms.
To catch these symptoms in their earlier stages, the research team created a system that will monitor patients remotely. Participants wear a specialized watch paired to a smartphone that measures activity, sleep, heart rate and stress levels. The patients are also asked to self-report anxiety, depression and other health data. By combining emerging technology and medicine, it is our aim to empower patients to better manage their conditions.

A New Age in Healthcare
Though the Precision Health initiative has been active for less than two years, the team has already made great strides in its research. Some of the most recent projects include:
Predicting developmental problems in children
Finding biomarkers to anticipate individuals' responses to rectal cancer therapies
Identifying novel therapeutics to help overcome chemo-resistant ovarian cancer
Seeking better ways to detect prostate cancer
Testing the effectiveness of radiation and chemotherapy by measuring how quickly tumors can repair the damage such treatments due to the DNA mutations driving cancer
Centralizing a proteomic library to enhance the capability for biomarker discovery
These projects represent a new age in medical research and innovation, and we're proud of the progress our team continues to make. Together, we can match the right treatment to the right patient at the right time for the best possible outcomes. Are you ready to join our team and make a difference in medical research?
Explore Career Opportunities on Cedars-Sinai's Research Team