On the Shoulders of Giants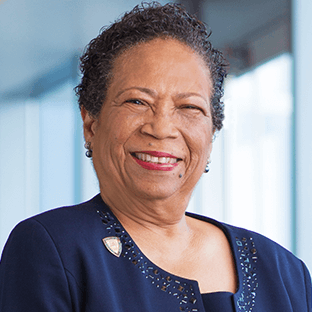 Linda Burnes Bolton, DrPH, FN, FANN, begins her day when the birds do. "It's quiet. I can think, plan and get a lot done."
And Bolton is a busy woman. Her legacy of leadership spans 45 years, including tenures as the president of the American Academy of Nursing and the president of the National Black Nurses Association. She is currently the Senior Vice President of Nursing, Chief Nursing Officer and Director of Nursing Research at Cedars-Sinai.
Around 6:30 a.m., Bolton meets with the medical center's administrator on duty to receive an update on patients. The rest of her day is typically filled with meetings across Cedars-Sinai. Her favorite part of the job, however, is the time she gets to make the rounds and talk to patients and their loved ones.
Bolton, like so many in the healthcare industry, stands on the shoulders of giants. The nursing profession has changed dramatically since its inception, but the passion and dedication required of its people remain the same. Here are some of the pioneers of nursing who have inspired her throughout her career.
The legacies of these forerunners live on in our dedicated staff. Here at Cedars-Sinai, our staff brings everything they have into their work. It's the reason why, when engaging with patients and their loved ones, Bolton can assure them that they've made the right choice in choosing Cedars-Sinai.