Research Grant Specialist II - Smidt Heart Institute - Albert Lab
Los Angeles, California
Overview
Cedars-Sinai is a hub for biomedical research and a training center for future physicians and other healthcare professionals. By joining us in an academic role, you'll be a part of formulating future ideas for discovery and then translating those discoveries into cures for the benefit and health of the Los Angeles community.
Full-time & Per-Diem
Level: Mid to Senior
Travel: Minimal (if any)
Success Profile
What makes a successful Research Grant Specialist II - Smidt Heart Institute - Albert Lab at Cedars-Sinai? Check out the traits we're looking for and see if you have the right mix.
Analytical
Organized
Deadline-oriented
Adaptable
Results-driven
Problem-solver
Culture
Discovery is central to Cedars-Sinai's mission. Our laboratories and clinics generate ideas, therapies, devices, and systems that contribute to biomedical progress around the world. Cedars-Sinai's investigators push the frontiers of biomedicine with studies in cardiac care, cancer, digestive health, the neurosciences, women's health, and more. Cedars-Sinai's robust academic enterprise shapes the experts who will help redefine medicine for the next generation.
Responsibilities
Requisition # HRC1235970
Grow your career at Cedars-Sinai!
The Smidt Heart Institute reflects Cedars-Sinai's steadfast dedication to heart disease and research innovation giving patients access to the highest level of care. Year after year, thousands of people trust their hearts to Smidt Heart Institute at Cedars-Sinai. Our cardiologists, cardiac surgeons and niche care teams treat the full spectrum of heart disease and disorders, while our investigators continue to advance the field with groundbreaking, life-saving research. From genetic counseling and targeted drug therapies to a growing array of minimally invasive procedures, Cedars-Sinai continues to stand at the forefront of technology, innovation and discovery improving patient outcomes.
Join our team and use your skills with an organization known nationally for excellence in research!
We are looking for a Research Grant Specialist who will work with principal investigator to complete and submit federal and non-federal grants and serves as the liaison between department or research groups and sponsored research funds administration, accounting, and finance departments. This role performs all Pre and Post award administrative functions, including, but not limited to, preparing and routing internal documents for signature and processing, supervising grant accounts, tracking all expenses, providing grant and financial reconciliation, and research-related financial reporting. Ensures compliance with all federal and local agencies including the Food and Drug Administration (FDA) and local Institutional Review Board.
JOB DUTIES AND RESPONSIBILITIES:
Monitors grant accounts, supervises all expenses, provides grant and financial reconciliation, and research-related financial reporting.
Performs vital funding corrections via direct cost transfer requests.
Identifies opportunities for research funding opportunities.
May assist with patient research billing.
Maintains research practices using Good Clinical Practice (GCP) guidelines.
Maintains strict patient confidentiality according to HIPAA regulations and applicable law.
Participates in required training and education programs.
Assumes primary responsibility for all pre-and post-award activities: responsible for maintaining solvency of all funds within the Department. This includes being familiar with approving all expenditures, assigning cost centers, supervising compliance with budgets, and identifying and investigating potential problem areas and proposing solutions. Makes recommendations for cost savings and re-budgeting, based on thorough understanding of study requirements and funding agency's regulations. Directly manages a portfolio of faculty and attendant grants and cost centers.
Works with financial staff to provide monthly, annual and ad hoc financial reports on all funds. These reports include current expenditures, projections of future expenses, and variances from budgeted line item expenses.
Serves as primary liaison to Cedars-Sinai, NIH and other sponsoring agencies with regard to fiscal administrative concerns. Prepares data for submission to same.
Creates and maintains spreadsheets for each staff member detailing annual salary support sources and duration of support.
Interacts extensively with Cedars-Sinai Research Administration to ensure compliance with all hospital, government (NIH) and funding agency policies.
Prepares and submits all EDC (PeopleSoft) salary sheets for faculty, fellow and staff members.
Coordinates all PeopleSoft and time-keeping functions, as well as requisitions for new employees, change of status forms and termination reports. Notifies' supervisors of probationary and quarterly evaluation deadlines, annual mandatory training, and ensures that the appropriate paperwork is completed.
Performs numerous personnel matters including writing job descriptions, discussions with Compensation to determine grades for new positions, annual rates of pay for new hires, increases for employees who are promoted, and advises supervisors with regard to personnel policies and procedures.
Serves as liaison to Accounts Payable, Payroll, Purchasing and other hospital departments. Represents particular needs of research studies and works to ensure that these needs are met. Also, works with outside vendors to acquire products and services vital to the operation of the research group.
Responsible for ensuring compliance with all hospital and government regulations for research involving human subjects. Monitors status of Institutional Review Board (IRB) approval for pending and ongoing studies, works with investigators to submit new applications, annual reviews and notification of changes to study design and methods.
Provides facilities management of off-site office space for the research group. Coordinates maintenance requests, telephone and computer network service changes, security issues, interactions with cleaning companies and other outside vendors.
Assists Director in certifying quarterly Time and Effort reports.
Interacts extensively with Director, Chair and other staff to assess administrative and financial needs of research group, and to revise policies and procedures to meet changing needs of Department
Educational Requirements:
Bachelor of Arts or Bachelor of Science degree
Licenses:
ACRP/SoCRA (or equivalent) certification preferred
Experience:
Five (5) years minimum experience in administration of research grants, or equivalent combination of education and experience.
Experience with and proven track record with research administration and grants management activities.
Excellent interpersonal skills to manage many competing timetables and responsibilities.
Excellent verbal and written communication skills to communicate effectively with Department personnel, members of other Cedars-Sinai offices, and outside funding agencies (NIH, industry and foundations) and vendors
Ability to work independently and to accept responsibility for sophisticated and sensitive decision-making as it relates to the overall conduct of the Department.
High degree of analytic ability to manage the financial aspects of the position.
Physical Demands:
- Able to perform moderate lifting. 
- Able to sit, stand and walk for prolonged periods of time. 
- Able to read papers and online documents. 
- Able to operate standard office equipment. 
- Able to exercise physical ability and perspective acuity to satisfactorily perform crucial job functions.
Working Title:
Research Grant Specialist II - Smidt Heart Institute - Albert Lab
Department:
Heart Institute Operations
Business Entity:
Cedars-Sinai Medical Center
Job Category:
Academic/Research
Job Specialty:
Contract & Grant Budgeting/Funding
Position Type:
Full-time
Shift Length:
8 hour shift
Shift Type:
Day
Base Pay:
$71,300.00 - $121,000.00
Our compensation philosophy
We offer competitive total compensation that includes pay, benefits, and other recognition programs for our employees. The base pay range shown above takes into account the wide range of factors that are considered in making compensation decisions including knowledge/skills; relevant experience and training; education/certifications/licensure; and other business and organizational factors. This base pay range does not include our comprehensive benefits package and any incentive payments that may be applicable to this role. Cedars - Sinai's EEO and AA Policy Statement
Diversity and Inclusion at Cedars-Sinai
We are caretakers and innovators committed to the pursuit of equitable healthcare. But health equity is not possible without representation. Our commitment to diversity goes beyond demographics or checking boxes. Our people must reflect the diverse identities, experiences and geographies of the communities and patients we serve – because that's what our patients, colleagues and communities deserve. Quality Care and Research—For All, By All.
Cedars-Sinai is an Equal Employment Opportunity employer.
Cedars-Sinai does not unlawfully discriminate on the basis of the race, religion, color, national origin, citizenship, ancestry, physical or mental disability, legally protected medical condition (cancer-related or genetic characteristics or any genetic information), marital status, sex, gender, sexual orientation, gender identity, gender expression, pregnancy, age (40 or older), military and/or veteran status or any other basis protected by federal or state law. If you need a reasonable accommodation for any part of the employment process, please contact us by email at Applicant_Accommodation@cshs.org and let us know the nature of your request and your contact information. Requests for accommodation will be considered on a case-by-case basis. Please note that only inquiries concerning a request for reasonable accommodation will be responded to from this email address.
Cedars-Sinai will consider for employment qualified applicants with criminal histories, in accordance with the Los Angeles Fair Chance Initiative for Hiring.
At Cedars-Sinai, we are dedicated to the safety, health and wellbeing of our patients and employees. This includes protecting our patients from communicable diseases, such as influenza (flu) and COVID-19. For this reason, we require that all new employees receive a flu vaccine based on the seasonal availability of flu vaccine (typically during September through April each year) as a condition of employment, and annually thereafter as a condition of continued employment, subject to medical exemption or religious accommodation. For the same reason, you may also be required to receive other vaccines such as COVID-19 as a condition of employment. Cedars-Sinai reserves the right to make modifications to its required list of vaccines as required by law and/or policy. Cedars - Sinai's EEO and AA Policy Statement
Apply Now
Apply Later
Hear From Our People
"I truly love what I do and I love being an employee and steward of Cedars-Sinai. I am here because Cedars-Sinai's mission and goals align with my own personal values as an RN. I appreciate and value that all of the leadership (especially Sr. leadership) values each and every employee, that it is the frontline staff that truly makes the difference and how our patients are cared for on a day to day basis."

– Kimako D., since 2016
"I am a proud member of the Cedars-Sinai team…Cedars holds their employees in the highest regard offering bonus', continuing education reimbursement, and much more to promote career advancement. I have been an employee for 10+ years and I love it!"

– Kathryn G., since 2007
"I have been an oncology nurse for over 30 years. Cedars-Sinai offers the most up-to-date therapies available, so I get to learn every day."

– Ann S., since 2014
"One reason I enjoy being nurse leader at Cedars-Sinai is because there is support to reach your full potential and working at the top of your scope is encouraged. It is a great place to be innovative and to inspire!"

– Courtnay C., since 2015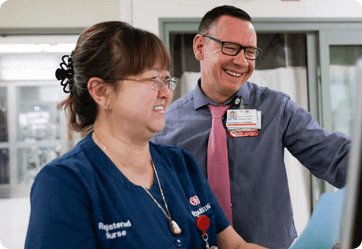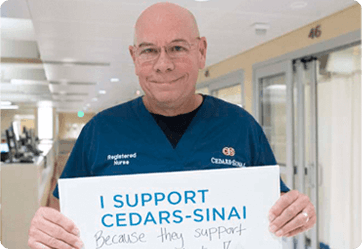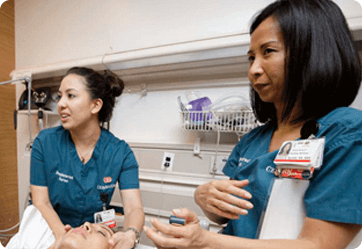 Rewards
Discover all the ways Cedars-Sinai appreciates your efforts.
Healthcare

401(K)/Retirement Plans

Continuing Education

Relocation Reimbursement

Professional Development

Work/life Balance