Asst Mgr, Nursing
Los Angeles, California
Overview
Make a difference in Nursing at Cedars-Sinai. Use your compassion, expertise and dedication in work that truly matters – improving the lives of our patients in their most vulnerable times. As a Nurse at Cedars-Sinai you'll work alongside some of the most talented staff in the industry and be exposed to innovative research and technology. Nurses at Cedars-Sinai are expected to be among the best in the industry and are given support to do something incredible – for yourself and for others.
Full-time & Per-Diem
Level: Mid – Senior
Travel: Minimal (if any)
Success Profile
What makes a successful RN at Cedars-Sinai? Check out the traits we're looking for and see if you have the right mix.
Compassionate
Detail-oriented
Positive
Resilient
Communicator
Good Listener
Career Path
We offer many career paths to support your immediate and future success.
New-Graduate Nurse (Registered Nurse I)

leads to Licensed Practical Nurse.

Registered Nurse II

leads to Registered Nurse

Registered Nurse III

ends this path

Registered Nurse IV

ends this path
Responsibilities
Requisition # HRC1325315
Job Summary: Key Job Responsibilities
Under the leadership of the Nurse Manager/Associate Director/Executive Director (Nurse Leader) the Assistant
Nurse Manager is responsible for coordinating the daily twenty-four (24) hour operations of assigned unit/area
patient care in order to provide high quality, individualized patient care in support of Medical Center
philosophies. The Assistant Nurse Manager functions as the Department Supervisor and an experienced and
proficient clinician, and assumes responsibility and accountability for the expert application of the nursing
process and the delivery of patient care. The Assistant Nurse Manager identifies and removes barriers to patient
flow in collaboration with organizational leaders and facilitates coordination of discharge planning and team
rounding as applicable. The Assistant Nurse Manager consistently demonstrates professional skills and abilities,
exemplary leadership and educational skills to direct and supervise the clinical performance of others, evaluates
the interventions and outcomes of care situations, demonstrates motivation and creativity, evaluates
opportunities for care enhancement at the departmental level, and serves as a catalyst for effective change
within Nursing at the department and institutional levels. The Assistant Nurse Manager shares their integrated
learning and knowledge, and assesses the educational needs of patients, family, and staff. In addition, the
Assistant Nurse Manager promotes, support, and is accountable for the achievement of departmental specific
patient safety goals.
The Assistant Nurse Manager ensures nursing staff on assigned unit(s) perform within their scope of
responsibility and duties, and ensures accountability at the facility, department and position levels, including
knowledge of required clinical/technical skills consistent with the Nurse Practice Act, Title 22, Joint Commission,
The Plan for Provision of Nursing Care, The Plan for Provision of Care to Patients, and other regulatory
requirements. Additional management responsibilities include compliance with the National Patient Safety Goals
supporting quality improvement and the clinical care delivery processes; staffing, scheduling, and retention of
staff; safety and quality management; and participation on unit practice council and TCAB. In conjunction with
the Nurse Leader, the Assistant Nurse Manager assists with all administrative processes applicable to assigned
unit(s), including human resources, assisting with unit based budgeting, evaluation of effectiveness of patient
care resources, staffing, quality improvement planning, strategic planning, and educational development
programs. The Assistant Nurse Manager supervises, mentors, and coaches staff and holds staff accountable for
development and professional growth of each employee he/she supervises, supports research, participates in
strategic planning, both long and short term, and assures patient advocacy. The Assistant Nurse Manager serves
as the operational and leadership resource to the staff; evaluates effectiveness of patient care resources. The
Assistant Nurse Manager is responsible for managing staffing effectiveness including, but not limited to
accountability for overtime utilization on their unit, staff compliance with meal and rest breaks, staff attendance.
The Assistant Nurse Manager conducts performance evaluations and oversees the completion of skills and
competencies. In collaboration with the Nurse Leader, the Assistant Nurse Manager leads recruitment and
retention activities.
• Collaborates to identify and assess patient safety concerns with respect to age and developmental
considerations. Intervenes to provide a safe environment and evaluates effectiveness of intervention for
patients.
• Provides leadership in the delivery of patient care and nursing practices within assigned clinical unit(s).
Works with Nurse Management to address issues identified with regard to quality of care standards. Ensures
Primary Duties and Responsibilities
efficient quality of care is provided and is in compliance with federal, state and local regulatory requirements
and established organizational goals.
• Responsible for performance management, including supervising or developing action plans to support staff
development and improve performance.
• In collaboration with CNIV and/or Charge Nurse and Nurse Leaders, ensures adequate staffing and time
schedules are managed within budgetary standard. May authorize overtime or scheduling changes to fill
shifts as necessary.
• Assists in monitoring established performance improvement systems to measure fiscal compliance. Assists
the Nurse Leader with budget planning, staffing and scheduling, recruitment efforts internal/external to the
organization, monitors meal periods and rest breaks, tardiness, absenteeism, overtime and keeps Nurse
Manager informed of trends.
• Oversees documentation on direct and indirect patient care services for the safety, comfort, personal
hygiene, and protection of our patients.
• Coordinates the interdisciplinary team approach to discharge planning, including team rounding.
• Supervises the coordination of patient assignments based on staff competencies, including the delegation and
assignment patient care tasks and prioritization of workload, considering patient acuity, activity and available
resources.
• In collaboration with other members of management, oversees the completion by staff of mandatory
competencies to meet regulatory requirements, ensures on-going adherence, and monitors for compliance.
• Assists the Nurse Leader with the development of departmental goals, new hire evaluation process and
promotes inter/intra departmental collaboration. Assists Nurse Manager with the recruitment and retention
of staff, coaches and counsels staff, and facilitates staff meetings.
• Conducts timely peer review evaluations as it applies to the performance appraisal period and evaluation and
ongoing feedback.
• Actively participates and manages operations during emergency situations, including participation in disaster
preparedness.
• Effectively shares integrated learning/knowledge. Supports and/or represents department for organizational
initiatives through the participation in meetings, such as staff meetings, shared governance, quality
assurance meetings or committees, joint commission and related clinical forums.
• Assists in assessing the educational needs of staff, patient, and families; plans and coordinates with Nurse
Educator the educational classes required for the department. Validates, monitors and evaluates the
orientation process for new staff members. Coordinates with Nurse Leader to develop nursing knowledge and
practice through in-service and basic competency programs to meet regulatory requirements.
• Other duties as assigned, including special projects.
Educational Requirements:
Bachelor's Degree Bachelor's Degree in Nursing 
Master's Degree Master's Degree in healthcare, nursing or healthcare administration profession.
Licenses:
RN State License California State RN License Upon Hire 
Basic Life Support (BLS) Basic Cardiac Life Support Certification Upon Hire 
Other Competencies, as required by your specialty unit (ex. ACLS, PALS) Upon Hire
ANCC Specialty Certification Upon Hire
Experience:
5 years Minimum five (5) years' experience in an acute care setting, which includes two (2) years in specialty and supervisory experience.
Physical Demands:
Standing, Walking, Sitting, Lifting 50 lbs. Carrying 50 lbs. Pushing 75 lbs. Pulling 75 lbs. Balancing, Stooping, Eye/Hand/Foot Coordination, Reaching, Handling, Grasping, Feeling, Talking, Hearing, Repetitive Motions 
Working Title:
Asst Mgr, Nursing
Department:
NSG Float
Business Entity:
Cedars-Sinai Medical Center
Job Category:
Nursing
Job Specialty:
Nursing
Position Type:
Full-time
Shift Length:
10 hour shift
Shift Type:
Day
Base Pay:
$128,200.00 - $224,200.00
Our compensation philosophy
We offer competitive total compensation that includes pay, benefits, and other recognition programs for our employees. The base pay range shown above takes into account the wide range of factors that are considered in making compensation decisions including knowledge/skills; relevant experience and training; education/certifications/licensure; and other business and organizational factors. This base pay range does not include our comprehensive benefits package and any incentive payments that may be applicable to this role. Cedars - Sinai's EEO and AA Policy Statement
Diversity and Inclusion at Cedars-Sinai
We are caretakers and innovators committed to the pursuit of equitable healthcare. But health equity is not possible without representation. Our commitment to diversity goes beyond demographics or checking boxes. Our people must reflect the diverse identities, experiences and geographies of the communities and patients we serve – because that's what our patients, colleagues and communities deserve. Quality Care and Research—For All, By All.
Cedars-Sinai is an Equal Employment Opportunity employer.
Cedars-Sinai does not unlawfully discriminate on the basis of the race, religion, color, national origin, citizenship, ancestry, physical or mental disability, legally protected medical condition (cancer-related or genetic characteristics or any genetic information), marital status, sex, gender, sexual orientation, gender identity, gender expression, pregnancy, age (40 or older), military and/or veteran status or any other basis protected by federal or state law. If you need a reasonable accommodation for any part of the employment process, please contact us by email at Applicant_Accommodation@cshs.org and let us know the nature of your request and your contact information. Requests for accommodation will be considered on a case-by-case basis. Please note that only inquiries concerning a request for reasonable accommodation will be responded to from this email address.
Cedars-Sinai will consider for employment qualified applicants with criminal histories, in accordance with the Los Angeles Fair Chance Initiative for Hiring.
At Cedars-Sinai, we are dedicated to the safety, health and wellbeing of our patients and employees. This includes protecting our patients from communicable diseases, such as influenza (flu) and COVID-19. For this reason, we require that all new employees receive a flu vaccine based on the seasonal availability of flu vaccine (typically during September through April each year) as a condition of employment, and annually thereafter as a condition of continued employment, subject to medical exemption or religious accommodation. For the same reason, you may also be required to receive other vaccines such as COVID-19 as a condition of employment. Cedars-Sinai reserves the right to make modifications to its required list of vaccines as required by law and/or policy. Cedars - Sinai's EEO and AA Policy Statement
Apply Now
Apply Later
Hear From Our People
"I truly love what I do and I love being an employee and steward of Cedars-Sinai. I am here because Cedars-Sinai's mission and goals align with my own personal values as an RN. I appreciate and value that all of the leadership (especially Sr. leadership) values each and every employee, that it is the frontline staff that truly makes the difference and how our patients are cared for on a day to day basis."

– Kimako D., since 2016
"I am a proud member of the Cedars-Sinai team…Cedars holds their employees in the highest regard offering bonus', continuing education reimbursement, and much more to promote career advancement. I have been an employee for 10+ years and I love it!"

– Kathryn G., since 2007
"I have been an oncology nurse for over 30 years. Cedars-Sinai offers the most up-to-date therapies available, so I get to learn every day."

– Ann S., since 2014
"One reason I enjoy being nurse leader at Cedars-Sinai is because there is support to reach your full potential and working at the top of your scope is encouraged. It is a great place to be innovative and to inspire!"

– Courtnay C., since 2015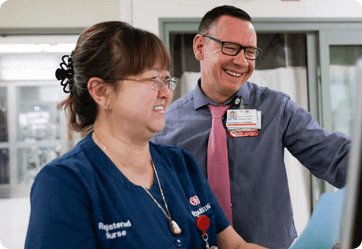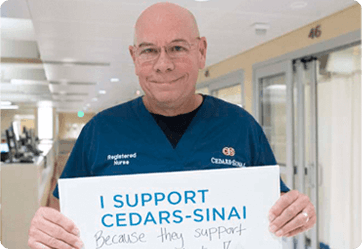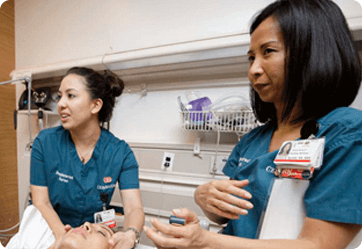 Rewards
Discover all the ways Cedars-Sinai appreciates your efforts.
Healthcare

Medical, Dental, Vision, Healthcare FSA, Dependent Care FSA, Health and Wellness Programs

Retirement Plans

Employer Matching

Continuing Education

Tuition Reimbursement, Professional Development

Relocation Reimbursement

Sign on Bonus

$3,000 Nurse Referral Bonus